Posted on: June 9, 2016 at 10:58 am
Last updated: September 14, 2017 at 4:21 pm
This article is shared with permission from our friends at blog.paleohacks.com.
This super-creamy cashew ice cream is completely Paleo and makes for the perfect treat for chai tea lovers!
Looking for a cooler version of your favorite chai tea recipe? This Paleo-friendly ice cream fuses chai with a creamy coconut milk base and sweet maple syrup. Throw it in the ice cream maker and you'll have a yummy, chai-infused dessert in minutes!
Health Benefits of Chai

Chai spices have anti-inflammatory, anti-cancer and antibacterial properties. In addition, chai is able to enhance your health in the following ways:
Improve digestion
Strengthen immune system
Prevent disease with its antixoidant properties
Protect you from cardiovascular disease
Moreover, chai tea is typically made with a blend of herbs and spices. In the recipe below, we combine it with ginger and cinnamon, two other anti-inflammatory agents. This powerful combination of spices makes this recipe an inflammation-fighting one, beneficial for those suffering from arthritis.
If you have an egg allergy, you'll be happy to know that this recipe stays incredibly rich without the need for eggs. The secret ingredient? Soaked and blended raw cashews! They will give your ice cream a velvety texture.
Health Benefits of Cashews
According to Dr. Mercola, cashews are a great source of nutrients and have much to offer your health:
Good source of magnesium, which helps diminish the frequency of migraines, improve cognitive ability, and also lowers blood pressure
Source of copper, which contains antioxidants that render free radicals harmless
Magnesium works with copper to provide bone strength
Another ingredient in cashews is proanthocyanidins, which contain flavanols that inhibit the ability of cancer cells to divide and multiply, reducing incidences of colon cancer
Contains zero cholesterol
Source of good fat – oleic acid, which improves insulin sensitivity and blood circulation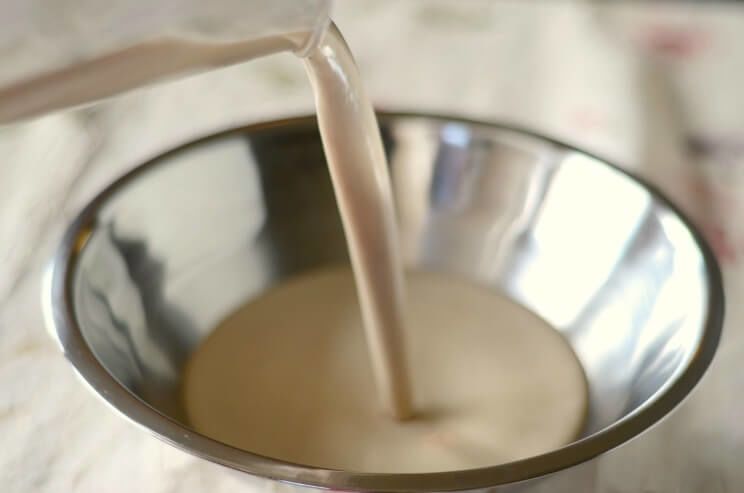 For best results, use full-fat, not "light," coconut milk. Also, soaking the cashews overnight yields maximum creaminess, but you can soak them in near-boiling water for thirty minutes if you're in a pinch. Blend the ice cream base on the highest speed to get the mixture very fluffy and smooth.
The ice cream will be soft-serve right out of the ice cream maker, while freezing it will firm it up. If it gets too hard to serve, just leave it on the counter for few minutes to soften before scooping.
Serve this dessert in ramekins and sprinkled with high-quality cinnamon for an easy treat!
Cashew Chai Ice Cream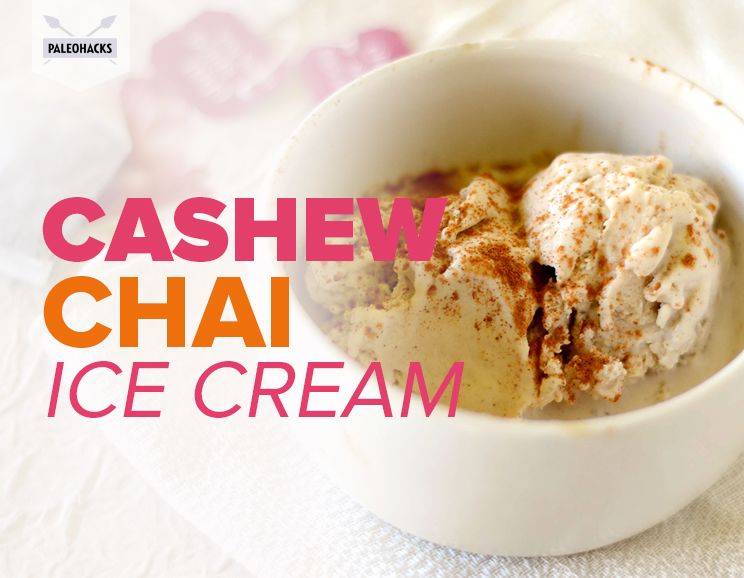 This super-creamy cashew ice cream is completely Paleo and makes for the perfect treat for chai tea lovers!
Ingredients:
½ cup boiling water
2 chai tea bags
1 cup raw cashews, soaked overnight and drained
1 can full-fat coconut milk
⅓ cup maple syrup
½ t ground cinnamon
¼ t ground ginger
Instructions:
Pour the boiling water over the tea bags in a mug and let steep a few minutes to make a strong tea. Remove tea bags
In a blender, combine tea and all other ingredients.
Blend until extremely smooth; pour into a bowl and chill until cold.
Churn cold ice cream base in an ice cream maker per manufacturer's instructions.

Sources:
PaleoHacks
Health Expert
We're here to give you the tools to move better, eat smarter and live the best version of yourself. On Paleohacks, you'll discover realistic advice about your health, easy recipes with real food, and exercises focusing on natural movement. What you do with that knowledge is up to you. We're just here to help you make the best, healthiest decision. So here's to you and moving forward.
Products We Love
Related Articles