Posted on: June 9, 2016 at 10:57 am
Last updated: September 14, 2017 at 4:21 pm
This article is shared with permission from our friends at blog.paleohacks.com.
What's better than a bread bowl? A coconut bowl. This recipe is cleverly served inside of a coconut. Not only is it super delicious, it's fun to eat!
Coconut Curry is a flavor I don't consume often enough, but when I do, my tastebuds go crazy (in a good way!). This Coconut Curry is easy to create and delivers a powerful punch of savory flavors. While the main ingredient is chicken, if you'd like more veggies, feel free to add sweet potatoes or peppers.
Start by cooking the chicken in a skillet—and everything else in a separate skillet. Once the chicken is cooked, add it to the other skillet and simmer for a few minutes. And voila—dinner is served! The prep time is only five minutes, since everything's a breeze after you chop up the chicken and dice the onion and garlic. It's a simple recipe and makes for a no-hassle weeknight dinner (or quick lunch).
Tip: If you want to thicken the sauce a bit, I suggest adding one to two tablespoons of coconut flour. Let the chicken and sauce simmer for 10 minutes or so, then allow the sauce to thicken on its own. I always enjoy adding a bit of coconut flour, which makes it even thicker.
As for serving it inside of a coconut goes, I actually watched a YouTube video on how to open a coconut with a hammer and screwdriver. And it worked! Just make sure that you're extra careful when handling these tools. Of course, this part is optional, but it's a gorgeous way to serve your meal while enhancing the coconut flavor.
A recipe for weight loss
Not only is this recipe extremely easy to prepare, it's equally good for your body. Coconut contains medium chain fatty acids, which are considered to be the good fats, you know, the ones we want to add to our diets. These fats a.k.a saturated fats have been found to help people lose weight by giving your metabolism a nice, big boost. In fact, a diet high in saturated fats, but also low in carbs, is more effective in helping you shed the pounds than a low-fat diet.
Other reasons to consume more saturated fats include:
Reduces risk for heart disease
Improves liver health
Keeps your lungs and your brain healthy
Strengthens your immune system
Enjoy this delicious 20-minute Coconut Curry recipe inside of a coconut!
Coconut Curry Chicken with Turmeric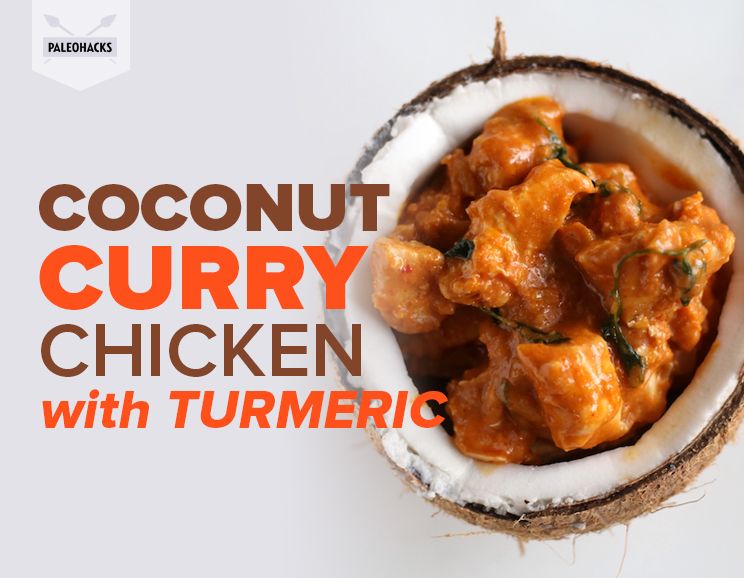 Serves: 2
Prep time: 5 Minutes
Cook time: 15 Minutes
Ingredients:
 2 chicken breasts
 2 T olive oil
 1 small yellow onion, diced
 2 garlic cloves, minced
 1 can coconut milk
 3 T red curry paste
 1 t fish sauce
 1 t coconut sugar
2 t fresh ginger, grated
 1/4 t ground turmeric
 Handful of cilantro
Instructions:
Cut up chicken into bite-size pieces.
Heat oil in a skillet, add chicken, and cook until done.
While chicken is cooking, dice onion and mince garlic. Place in a separate skillet with coconut milk, curry paste, fish sauce, sugar, ginger, and turmeric. Bring to a boil, then lower heat to a simmer.
Once chicken is cooked, transfer it to the skillet with the sauce. Then simmer it for 10 minutes or so, allowing time for it to absorb the flavor.
 Stir in cilantro. If you want the sauce to be thicker, stir in 1-2 tablespoons of coconut flour.
 Serve inside a coconut and enjoy!
A note from The Hearty Soul! 
Turmeric is notoriously difficult to absorb:
Even if you take it with fats (like you should be!) you're still probably getting only part of the effect. You may even be wasting time and money by allowing most of your Turmeric to just pass through your body unabsorbed!
That's why we found this organic Turmeric Extract that's specially formulated with fats already found in your cells, making it at least 20 times easier to absorb directly into your body than any other Turmeric supplement!
And today they're offering you a stellar deal: you can get this super-powered Turmeric Extract shipped right to your door for as much as 33% off!
You can get this awesome extract and this great deal HERE. (Do it ASAP though, they told us they only have a few bottles left and word is spreading FAST, so they might even run out today!)
PaleoHacks
Health Expert
We're here to give you the tools to move better, eat smarter and live the best version of yourself. On Paleohacks, you'll discover realistic advice about your health, easy recipes with real food, and exercises focusing on natural movement. What you do with that knowledge is up to you. We're just here to help you make the best, healthiest decision. So here's to you and moving forward.
Products We Love
A Special Message From Our Founders
Over the past few years of working with health experts all over the world, there's one major insight we've learned.
You don't have to rely on expensive medications for the rest of your lives.
Most health problems can often be resolved with a good diet, exercise and a few powerful superfoods. In fact, we've gone through hundreds of scientific papers and 'superfood' claims and only selected the top 5% that are:
Backed by scientific research
Affordable
Simple to use
We then put this valuable information into the Superfood as Medicine Guide: a 100+ page guide on the 7 most powerful superfoods available, including:
Exact dosages for every health ailment
DIY recipes to create your own products
Simple recipes
Grab your copy before the offer runs out!
Related Articles