Posted on: December 21, 2016 at 2:34 pm
This article is shared with permission from our friends at PaleoHacks.
Spiced with cinnamon and coconut sugar, these cranberry cookies are the perfect holiday cookie recipe to add to your arsenal.
I love a good cookie recipe, especially the kind that's also tasty at breakfast. Many Paleo cookies can be tricky to make because they come out dry or crumbly. But I've found that adding applesauce to the dough keeps the cookies moist with a soft-baked texture. It also eliminates the need for a lot of eggs or oil in the dough.
To start, mix the dry ingredients together, and use a fork to break up any lumps. Next, whisk the egg, applesauce, and vanilla extract in another bowl. Slowly combine the dry and wet ingredients as you stir, then pour in the melted coconut oil as you continue to whisk.
It's crucial that you wait to pour in the coconut oil until the dry and wet ingredients are mixed—since coconut oil quickly solidifies if it gets cold. Then stir in the dried cranberries.
Next, using your hands, form the dough into the shape of cookies. These cookies spread very little if at all, so it's important to make them the exact size and thickness you want them to be later on. Place them onto a baking sheet.
To help prevent a crumbly cookie, use your fingers to seal up any cracks. The smoother the dough is, the less chance there is that it will crumble after it's baked.
Bake for 25-30 minutes—until golden brown around the edges. (Depending on the thickness of your cookies, it could be more or less baking time.) Once baked, let them cool at room temperature.
Can you eat chocolate on the Keto diet? Good news!
Download our free report today for instant access to 28 recipes for making delicious chocolate treats — all 100% Keto approved.
Now, grab a glass of almond milk, and dunk away!
Coconut Flour Cranberry Cookies Recipe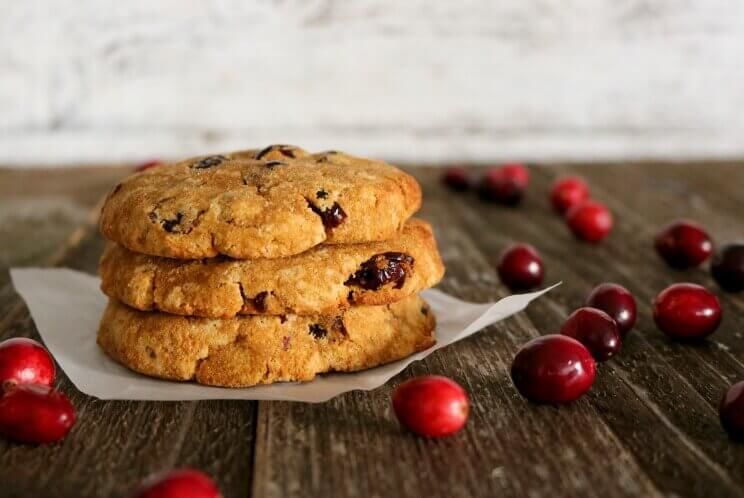 Recipe by: Jennafer Ashley
Total time: 45 MINS
Serves: 6 large cookies
Cook Time: 30 mins
Prep Time: 15 mins
Spiced with cinnamon and coconut sugar, these cranberry cookies are the perfect holiday cookie recipe to add to your arsenal.
Ingredients
1 cup coconut flour
1/2 cup coconut sugar
1/2 cup dried cranberries (unsweetened)
1 cup applesauce (unsweetened)
1/3 cup coconut oil (melted)
1 large egg
1 teaspoon cinnamon
1 teaspoon baking powder
1 teaspoon vanilla extract
1/4 teaspoon sea salt
Instructions
Preheat oven to 325°F, and line a baking sheet with parchment paper.
In a small bowl, add coconut flour, coconut sugar, cinnamon, baking powder, and sea salt. Stir together, and break up any lumps.
In a large bowl, combine egg, applesauce, and vanilla extract. Whisk until combined.
Stir dry ingredients into wet. Pour in melted coconut oil, and stir to combine. Then stir in cranberries.
Use hands to form dough into the shape of cookies, about 1/4" thick. Place onto cookie sheet. Bake 25-30 minutes. Allow cookies to cool.
Try these delicious recipes next!
PaleoHacks
Health Expert
We're here to give you the tools to move better, eat smarter and live the best version of yourself. On Paleohacks, you'll discover realistic advice about your health, easy recipes with real food, and exercises focusing on natural movement. What you do with that knowledge is up to you. We're just here to help you make the best, healthiest decision. So here's to you and moving forward.
Products We Love
A Special Message From Our Founders
Over the past few years of working with health experts all over the world, there's one major insight we've learned.
You don't have to rely on expensive medications for the rest of your lives.
Most health problems can often be resolved with a good diet, exercise and a few powerful superfoods. In fact, we've gone through hundreds of scientific papers and 'superfood' claims and only selected the top 5% that are:
Backed by scientific research
Affordable
Simple to use
We then put this valuable information into the Superfood as Medicine Guide: a 100+ page guide on the 7 most powerful superfoods available, including:
Exact dosages for every health ailment
DIY recipes to create your own products
Simple recipes
Grab your copy before the offer runs out!
Related Articles