Posted on: March 26, 2020 at 10:18 am
Last updated: October 15, 2020 at 3:06 pm
As coronavirus continues its march across the planet and infection rates shoot through the roof, hospitals around the world are finding it difficult to keep up with the demand for intensive care and medical equipment like respirators.
Coronavirus targets the respiratory system and can lead to severe pneumonia. In worst-case scenarios, patients may need to intubated and placed on a ventilator in order to assist with breathing until the body can fight the infections or another form of treatment can run its course.
"A ventilator is a fairly fancy piece of technological equipment which is designed to breathe for somebody who is unable to breathe effectively on their own," David Hill, a pulmonologist who sits on the board of the American Lung Association told PBS. [1]
Read: New York Hospitals Are Treating Coronavirus Patients With Vitamin C
An individual with a particularly severe case of coronavirus may experience lung inflammation that results in the lungs filling with fluid, making it difficult or nearly impossible to breathe.
Unfortunately, most hospital networks don't have hundreds of extra ventilators on hand to deal with a crisis the scale of the COVID-19 pandemic. Around the world, hospital staff and others have had to improvise in order to save lives.
In Italy, the country second-hardest hit by the COVID-19 pandemic has faced both a shortage of hospital beds and medical equipment, like ventilators. One Italian doctor, facing a shortage of live-saving ventilator masks, reached out to Alessandro Romaiol and Cristian Fracassi, two engineers at Isnnova, a 3D printing company, with a big idea: retrofitting scuba masks to serve as ventilator masks.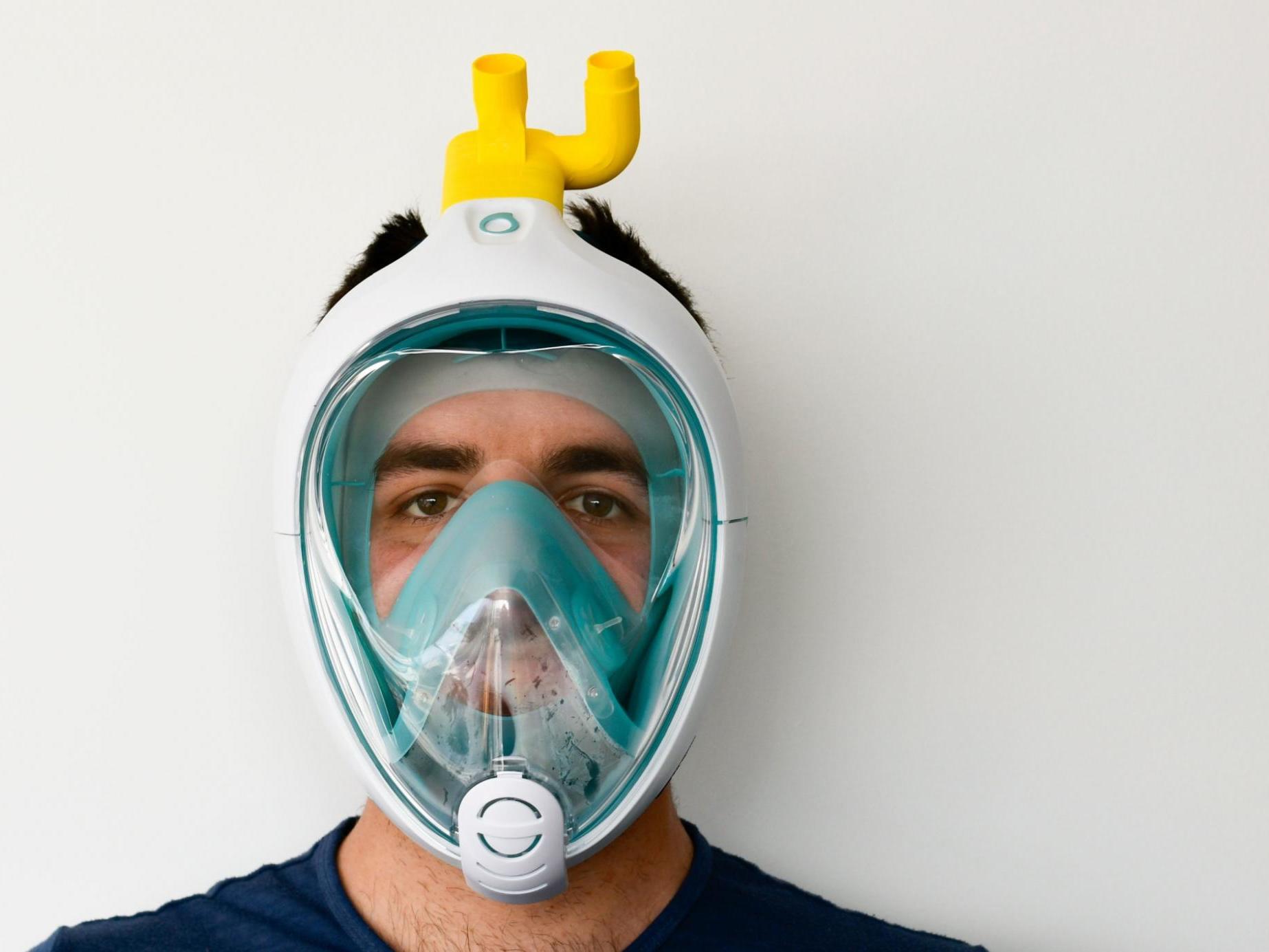 Read: A man died after ingesting a substance he thought would protect him from coronavirus
Within three hours, Romaiol and Fracassi had designed and printed a 3D printed valve that could turn scuba equipment into a ventilator mask.
"We had never made valves before, but we wanted to help," the two engineers said in an interview with The Independent. [2]
The engineering duo reached out to Decathlon, a French sporting goods store, to see if they could use Subea Easybreath snorkeling masks as a prototype. They report that Decathlon was "immediately willing to cooperate."
Following the success of their prototype, which costs $1 to produce, the engineers printed 100 more valves for use in Italian hospitals, patented the valve and made the 3D printing files completely free to anyone to use during this crisis.
"We clarify that our initiative is totally non-profit, we will not obtain any royalties on the idea of the link, nor on the sales of Decathlon masks," they told The Mirror. [3]
"We are reiterating that the idea is designed for healthcare facilities and wants to help in realization of an emergency mask in the case of a full-blown difficult situation, where is not possible to in find official healthcare supplies," the engineers said.
It is worth noting that, due to the improvised nature of using a scuba mask and 3D printed parts as a ventilator, patients need to sign off on a form to permit use.
"Usage by the patient is subjected to the acceptance of use of an uncertified biomedical device, by providing a signed declaration," they said.
But the innovation is impressive nonetheless and is likely saving numerous lives in Italy. Making the file publicly available may also save countless lives around the world. Romaiol and Fracassi should be applauded for quickly taking action during a time of need.
Keep Reading: FDA Approves Treating Critical Coronavirus patients With Blood From Survivors
https://www.pbs.org/newshour/science/what-is-a-ventilator-and-how-does-it-help-covid-19-patients
https://www.independent.co.uk/news/world/europe/coronavirus-ventilators-snorkelling-masks-brescia-italy-engineers-a9420916.html
https://www.mirror.co.uk/news/world-news/coronavirus-incredible-hack-turning-scuba-21746459
Thomas Nelson
Environmental Advocate
Thomas is an environmental advocate currently residing in the Pacific Northwest. In his spare time, he enjoys experiencing the outdoors, raising chickens and ducks, and reading about current environmental issues. Despite slight colorblindness, his favorite color is green.
A Special Message From Our Founders
Over the past few years of working with health experts all over the world, there's one major insight we've learned.
You don't have to rely on expensive medications for the rest of your lives.
Most health problems can often be resolved with a good diet, exercise and a few powerful superfoods. In fact, we've gone through hundreds of scientific papers and 'superfood' claims and only selected the top 5% that are:
Backed by scientific research
Affordable
Simple to use
We then put this valuable information into the Superfood as Medicine Guide: a 100+ page guide on the 7 most powerful superfoods available, including:
Exact dosages for every health ailment
DIY recipes to create your own products
Simple recipes
Related Articles