Posted on: February 1, 2017 at 4:55 pm
Last updated: November 23, 2017 at 11:15 am
This article is shared with permission from our friends at Paleohacks.com.
This Turmeric Chicken Soup with Zucchini Noodles is the perfect remedy for a chilly night. Filled with fresh veggies, lean protein, and anti-inflammatory turmeric, it's the perfect meal to cozy up to!
I'm a firm believer in the healing properties of soup that has been allowed to simmer until the ingredients are soft and comforting. In my house, whenever one of us is feeling under the weather, you'll find a big pot of soup simmering in the kitchen, our antidote to sickness.
Today, we're making a low-carb version of chicken noodle soup. Instead of using regular noodles, we'll be using zucchini noodles – or zoodles – that are lighter and packed with more nutrition.
Start by placing the chicken breast, diced onions, chopped celery, and diced carrots in a large pot. Cover the ingredients with water and then bring them to a boil before lowering the heat to medium-high and cooking the chicken until the juices run clear.
Once the chicken is cooked, transfer it to a plate to cool before shredding it with either two forks or your fingers. Add ground turmeric to the soup, then mix well and let the soup simmer for the next 20 minutes until the vegetables are tender. Finally, add in the zucchini noodles and cook until the zucchini is soft but not mushy.
All that's left to do is to divide the zucchini noodles and soup into two bowls, top with shredded chicken, and then garnish your turmeric chicken soup with fresh parsley. Enjoy!
Turmeric Chicken Soup with Zucchini Noodles
Can you eat chocolate on the Keto diet? Good news!
Download our free report today for instant access to 28 recipes for making delicious chocolate treats — all 100% Keto approved.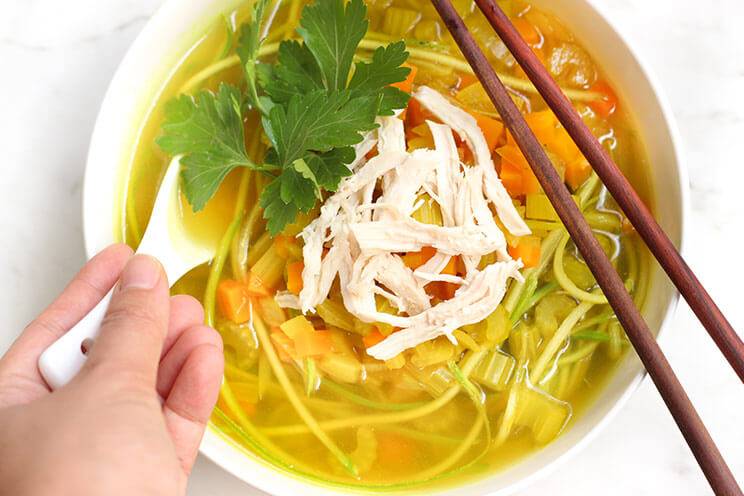 Total Time: 1hr 10 mins
Prep Time: 15 Mins
Cook Time: 55 Mins
Servings: 2
Recipe by: Felicia Lim
Filled with fresh veggies and lean protein, this chicken soup is the perfect meal to cozy up to!
Ingredients:
1 pound chicken breast
1 large onion, diced
3 cups chopped celery (stem only)
2 cups diced carrots
1

teaspoon

ground turmeric
Salt and pepper, to taste
3 large zucchini, julienned into thin noodles
Fresh parsley, to garnish
Instructions:
Place chicken breast, diced onions, chopped celery, and diced carrots in a large pot.
Cover with water and bring to a boil, then lower heat to medium-high and cook until chicken breast is cooked through (about 30 minutes). Chicken is cooked when the juices run clear when you slice into it.
Transfer the chicken to a plate and let it cool before shredding it into pieces with two forks.
Add ground turmeric to the soup, then turn heat down to medium-low. Let it simmer for 20 minutes until vegetables are soft.
Add in zucchini noodles and cook for 5 minutes until soft.
Divide zucchini noodles and soup into two bowls. Top with shredded chicken and garnish with fresh parsley.
Tips:
If you prefer a vegetarian soup, leave out the chicken. It'll still be filling and comforting!
Feel free to add other types of vegetables to the soup as well – you can add radishes, spring onions or other root vegetables.
Check out these delicious soups next!
PaleoHacks
Health Expert
We're here to give you the tools to move better, eat smarter and live the best version of yourself. On Paleohacks, you'll discover realistic advice about your health, easy recipes with real food, and exercises focusing on natural movement. What you do with that knowledge is up to you. We're just here to help you make the best, healthiest decision. So here's to you and moving forward.
Products We Love
A Special Message From Our Founders
Over the past few years of working with health experts all over the world, there's one major insight we've learned.
You don't have to rely on expensive medications for the rest of your lives.
Most health problems can often be resolved with a good diet, exercise and a few powerful superfoods. In fact, we've gone through hundreds of scientific papers and 'superfood' claims and only selected the top 5% that are:
Backed by scientific research
Affordable
Simple to use
We then put this valuable information into the Superfood as Medicine Guide: a 100+ page guide on the 7 most powerful superfoods available, including:
Exact dosages for every health ailment
DIY recipes to create your own products
Simple recipes
Grab your copy before the offer runs out!
Related Articles