Plenty of people are making the switch from traditional homes to living the tiny house life. Many of those people, however, are single people, couples who don't have kids, or couples whose kids are grown and gone. For those with young kids, this seems impossible – until now. This couple turned an old RV remodel into a tiny home for their family of five. This is how they did it.
Old RV Remodel for Family of Five on a Budget
Ashley and Dino Patrone didn't originally plan on moving their three young kids into an old RV remodel when they purchased land in Ventura, California. Having just sold their traditional five-bedroom home, they were looking for something small to rent while they built their dream home on their new land.
As most who are in the rental market in California won't be shocked to hear, the couple was surprised how expensive it was going to be to rent an apartment for their family to live in during the build. Instead, the couple decided to flip the used 2003 Cougar Keystone camper they had purchased for $8000 into something the family could actually comfortably live in.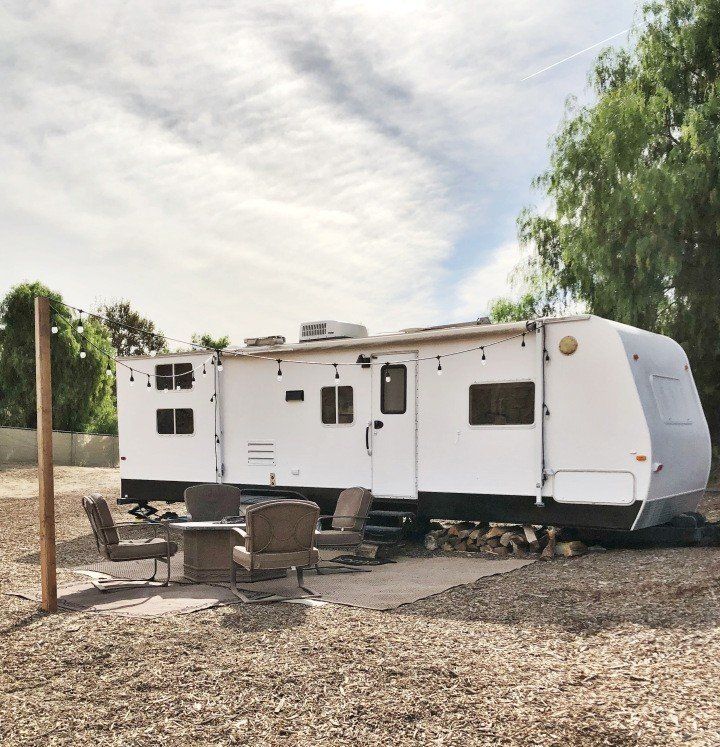 Just $3000 of renovations later, the 180 square feet RV was transformed into a modern, chic, all-purpose home for five. Ashley and Dino did most of the renovations themselves over the span of three weeks. Dino had a background in construction, which certainly helped. From there, the couple just figured out how to do the things that they didn't know.
A True Fixer-Upper
Ashley describes the RV as less than an ideal space to live in when they first got it.
"The state of the RV was old and blue and dirty. The curtains were horrible and huge and the whole feeling just felt dark,"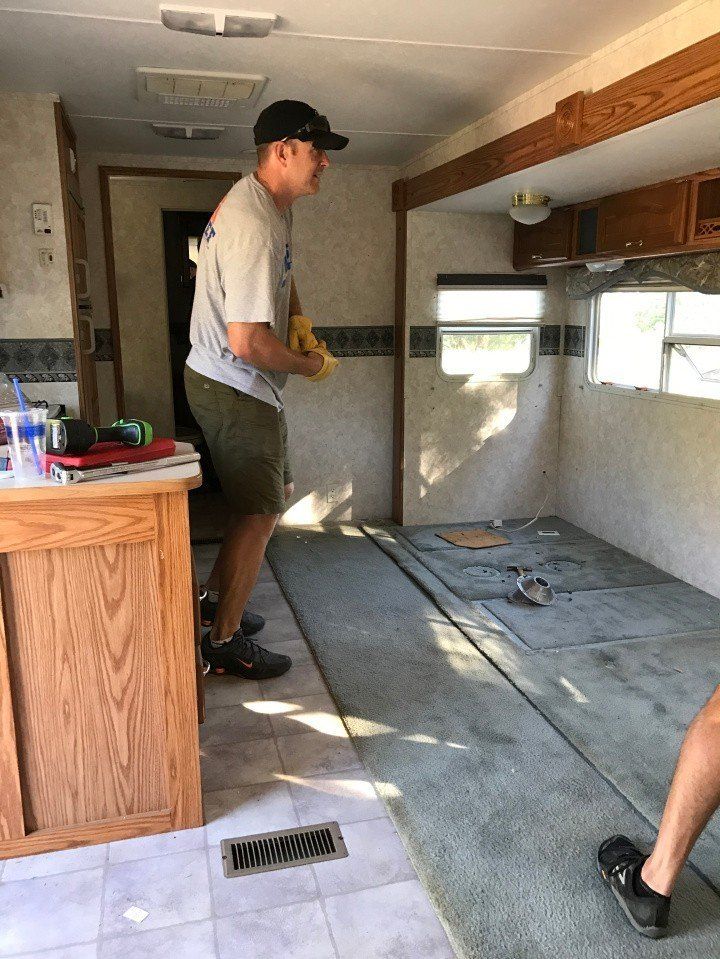 The entire inside was basically stripped of what was there before. Gross blue carpet was replaced with light-colored wood flooring, wallpaper was taken down and replaced with wood trim, and all the built-in furniture was removed to make better use of the space. All cabinets were painted to match the new look and add to the brightening of the interior.
Read: Eco-Friendly Tiny House in The Woods Cost Under $14K
Sleeping Arrangements
One one end of the RV remodel is the master bedroom, on the other are triple bunk beds that their two sons and daughter sleep in. There are sliding doors on all rooms to maximize space while still allowing for some privacy.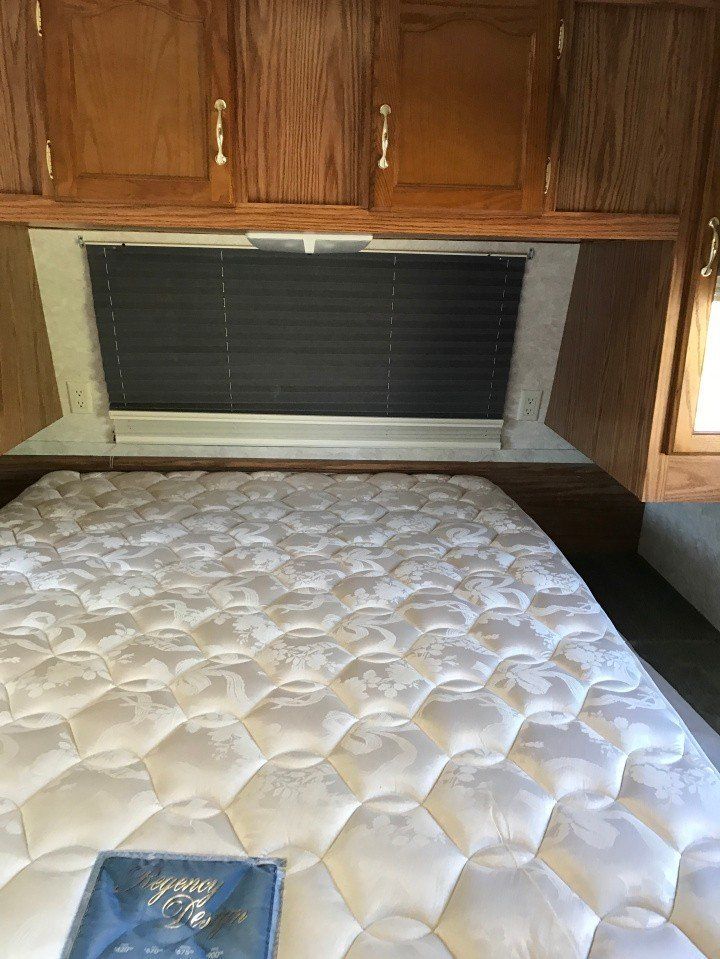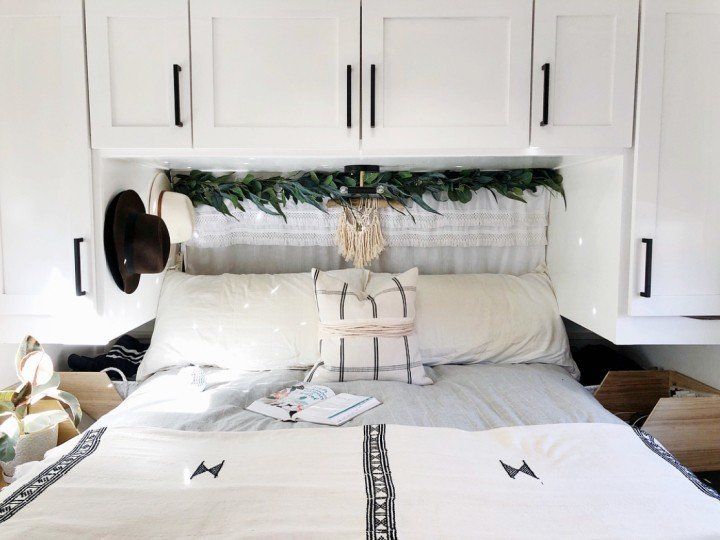 The Kitchen
The kitchen is reminiscent of ones you would see in a small city apartment: compact that uses space wisely. They have a ceramic tile backsplash and a countertop that the couple made out of an IKEA desktop, cut to fit the counters and the space. In the windowed corner of the RV, they have a beautiful dark wood table for the family to eat at.
Read: 'Right-sized' prefab smart home now available to order
Clutter-Free Living
All the parents reading this probably have the same thought: sounds nice, but how on earth do they keep it from becoming a complete mess?
Keeping a small space tidy with three energetic kids isn't easy, but Ashely and Dino have really cracked down on living a more minimalistic life. Essentially, the entire family has learned how to function and be happy living with less stuff.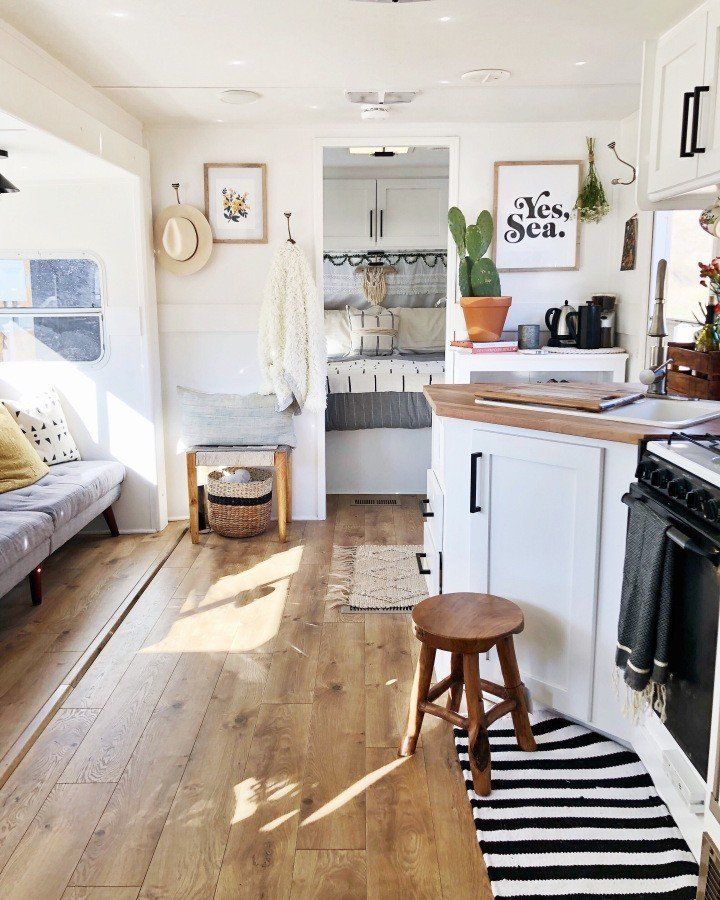 "We just don't buy a lot and if we do bring something in, we get rid of something,"
The family parked the RV remodel on the land they were building their new dream home on and lived the simple life until it was done.
If you are curious about their renovation process and what life is like living with a family of five in a 180 square foot RV, check out Ashley's blog, Arrows & Bow.
Keep Reading: Tiny smart home looks like a space ship and can sleep a family of 4 — see inside
https://www.dwell.com/article/budget-rv-renovation-ad01380e